Ring Up Rewards
Telephone Tips for Comfortable Conversations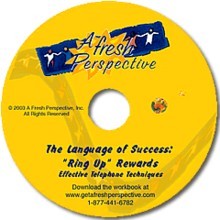 The most effective, least expensive business tool you will ever own is already in your home. It's your telephone. This session offers techniques for getting comfortable on the phone, as well as specific words to say for all kinds of business situations.
Download the
companion workbook
Requires the free Acrobat Reader.
Listen to a sample of the cd
Ring Up Rewards-

Shipped

$13.00

Ring Up Rewards-

DOWNLOAD Audio File Now and Save!

(PLEASE NOTE:  Your download link will expire after 120 hours [5 days] or 1 download attempt, whichever happens first.  If your link does not arrive in your email box shortly after your purchase, please be sure to check your "spam" folder.)

$9.00

(Save $4!)
All orders shipped either by U.S. Priority Mail or standard First Class Mail. You may choose your shipping method when you check out.